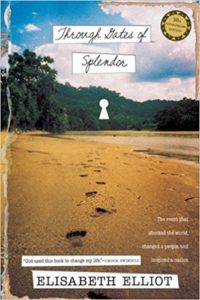 Date read: 11.23.2017. How strongly I recommend it: 10/10.
Through Gates of Splendor by Elizabeth Elliot on Amazon.
See my Kindle highlights here.
(Note: This post contains affiliate links, which means that the ministry of Within Reach Global will receive 4.50% of your total purchase from Amazon.)
TARGET AUDIENCE
This book is a classic Christian missionary tale of self-sacrifice, horrific tragedy, unparalleled forgiveness, and divine redemption. I suggest it should be required reading for every new disciple, church-goer, leader, pastor, and cross-cultural missions worker. This is not your typical Christian feel-good, self-help-type of a book. It is a page-turner, guaranteed to stoke a missions zeal where a fledgling flame already exists or even kindle a bonfire where missional passion is completely devoid. One cannot help but become impassioned at such an inspiring narrative.
CONTENT QUALITY
The author writes candidly about the events leading up to the dangerous "Operation Auca" which (spoiler alert, in case you don't know already) leads to the death of her own husband and his missionary companions. Describing the target unreached people group that the missionaries sought to reach with the Gospel, the author succinctly describes the murderous, stone-age people: "But there remained a group of tribes that had consistently repelled every advance made by the white man: the Aucas." She compiles the personal letters, journal entries, and minute-by-minute reports straight from the heart of the Ecuadorian jungle. This perfectly constructed, semi-chronological recollection of "the Ecuadorian Five" (as the author's husband and friends later came to be known) is not only well-written but speaks of the very heart of the missionary endeavor. This heart is evident in Jim Elliot when he writes, "I only hope that He will let me preach to those who have never heard that name Jesus. What else is worthwhile in this life? I have heard of nothing better. 'Lord, send me!'" Moments later in the letter written to his wife, the author, Elliot pens his ardent sacrificial willingness: "Make me Thy fuel, flame of God." Content such as this, I find, is rare in present-day Christian literature. This book describes the ultimate sacrifice that five missionary men flung themselves wholeheartedly toward.
MESSAGE CLARITY
The author explores not only the events that led up to Operation Auca but also the internal workings and conundrums of each of the five men's missionary hearts and minds. She openly reveals the gripping mind battles of this band of brothers: "The missionary watches, and longs, and his heart sickens," writes one of them. "The forces of evil, unchallenged for so long, are now set in array against the missionary." Moments later in the same journal entry, his doubts come to a hard conclusion: "About ready to call it quits." The message of this book is clear: God uses weak and foolish vessels who have little to offer other than their own deficiencies. Ready to throw in the towel before Operation Auca launches, the missionary goes on: "I do not put any blame on personalities or circumstances involved; the failure is mine, and my failure to achieve the personal experience of Christ that could meet the needs here." Then moments later, the author reveals the missionary's final decision to join Operation Auca: "He was cleansed through the Spirit for the task that lay ahead of him… and went with a happy, expectant mind and his heart full of joy." The most well-known quote from this story was written by the author's husband, Jim Elliot, in a journal entry years before his martyrdom: "He is no fool who gives what he cannot keep to gain what he cannot lose." This challenging message is one that I believe must be remembered by the body of Christ if we are to fulfill the Great Commission and see "every nation, tribe, people, and language" one day stand before the throne of God.
CREATIVE STYLE
LIFE Magazine ran a ten-page article on this story on January 30, 1956. In it, the journals, letters to family and supporters, and personal thoughts were meticulously compiled to explain the tragic January events of that year. Reflecting that article, with the help of the same documents, the author also thoughtfully expounds on the overarching narrative. Chapter by chapter, the reader begins to hail the missionary men as heroes—not with undue glory but with an understanding of their own frailties and humanity. Though this may be a heroic Christian endeavor (the success of which may perhaps be lost to the non-believer, not realizing that only through the veil of death can true life persist), the reader is left to ponder the normalcy of the Ecuadorian Five. There was no magic in their obedience to the call of God. The author does well to articulate that reality. She conveys the truth that glorious breakthrough and revival is, in fact, available to every Christ-follower as they follow the footsteps of Jesus. "Plain, ordinary missionaries with wives and children whom they loved found themselves faced with a life and death decision. They were not looking for anything bigger to do, let alone for fame. The need of the Waoranis simply became the categorical imperative." The author's unparalleled take on the very personal tragic event is praiseworthy. She comes to realize the importance of her husband's sacrifice: "There can be little doubt that the drama of the story awakened many to the existence of 'harvest fields' they had not thought of. At least hundreds were jolted by the sacrifice of five young men for whom obedience to their Lord was quite literally a matter of life and death."
LANGUAGE SELECTION
If you have ever read any of the author's many books, you immediately recognize her gift with words. She writes in a reader-centric manner and yet still manages to challenge the reader with her broad vocabulary and deep spiritual insights. I admit that I can easily become frustrated by literary redundancies, poor word choice, and shallow descriptions of events. This is not the case with Through Gates of Splendor. Perhaps the author's manner of writing is simply a characteristic feature of her time (were not literary works more eloquent in decades past?) but I find her descriptive articulation emotionally refreshing and intellectually elevating. The following statement is a perfect example of the author's masterful use of language, both emotionally and intellectually: "Was it the thrill of adventure that drew our husbands on? No. Their letters and journals make it abundantly clear that these men did not go out as some men go out to shoot a lion or climb a mountain. Their compulsion was from a different source. Each had made a personal transaction with God, recognizing that he belonged to God, first of all by creation, and secondly by redemption through the death of His Son, Jesus Christ… This meant simply that Christ was to be obeyed, and more than that, that He would provide the power to obey. The point of decision had been reached. God's command 'Go ye, and preach the gospel to every creature' was the categorical imperative. The question of personal safety was wholly irrelevant."
OVERALL IMPACT
I first read this book over twenty years ago while embarking on my own missionary journey. Through Gates of Splendor is a timeless mosaic of God's grace as He chooses to use "normal" men and women. I walk away with the returning realization that God loves to make use of individuals who offer their availability instead of their abilities. His grace is at the nucleus of the missionary call; His glory is the ultimate aim. For over two decades this book has challenged me and rereading it instilled a new sense of passion for Great Commission fulfillment. Again, it would not be hyperbole to state that this is a classic Christian missionary story. Truly, Through Gates of Splendor will go down in time as an altruistic challenge for Christians to follow the command of Christ regardless of the cost. I only hope that this book inspires a new surge in missionary biographies that is relevant and inspiring for future generations of globally-minded Christians.
10 POINT RATING
I give Through Gates of Splendor a 10/10.