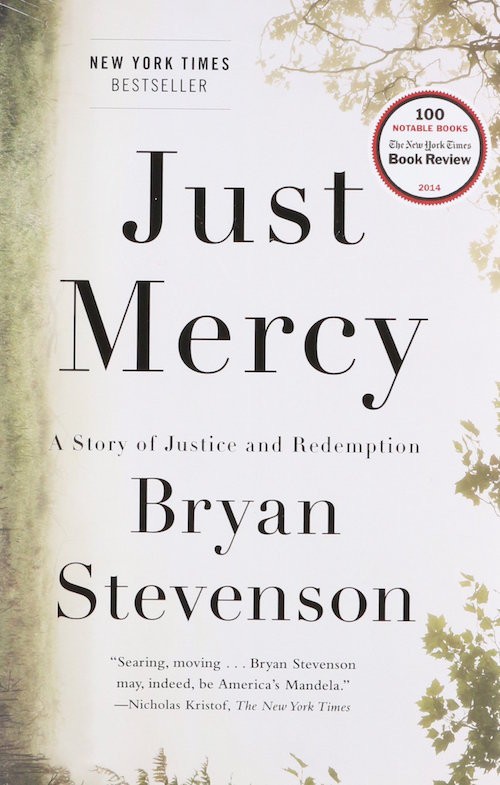 Date read: 10.28.2017. How strongly I recommend it: 10/10.
Just Mercy: A Story of Justice and Redemption by Bryan Stevenson on Amazon.
See my Kindle highlights here.
(Note: This post contains affiliate links, which means that the ministry of Within Reach Global will receive 4.50% of your total purchase from Amazon.)
TARGET AUDIENCE
The widespread success of this book has obviously touched a tender nerve in the heart of the American public. I will be honest: this is not typically a topic that I dwell upon. But though I am not particularly passionate about mass incarceration and the ethics of the death penalty, this book opened my eyes in unexpected ways. The author reveals the hidden layers below the surface of the issues at hand, namely our own character and identity, flawed and broken. He says, "The true measure of our character is how we treat the poor, the disfavored, the accused, the incarcerated, and the condemned." This book is sure to challenge the modern reader's mindset, perhaps in a similar manner that To Kill a Mockingbird did for the readers of yesteryear.
CONTENT QUALITY
The author's following words will suffice for a clear description of this book: "This book is about getting closer to mass incarceration and extreme punishment in America. It is about how easily we condemn people in this country and the injustice we create when we allow fear, anger, and distance to shape the way we treat the most vulnerable among us." The author communicates that this book is about more than just mass incarceration. It reveals the truth about racial injustice, poverty, and how the vulnerable among us need to be given a second chance. I cannot say that I agree on every point, but his arguments are compelling nonetheless. He tells the stories of numerous people, most on death row, but the reader mostly follows the progression of events of his protagonist, Walter McMillian, wrongly accused of murder.
MESSAGE CLARITY
The author's message is clear: "We have a choice. We can embrace our humanness, which means embracing our broken natures and the compassion that remains our best hope for healing. Or we can deny our brokenness, forswear compassion, and, as a result, deny our own humanity." Though the author is deeply passionate about the injustice of our broken American system, he is even more interested in revealing the deeper reality of brokenness. His altruistic message rings clear once more with these words: "Mercy is just when it is rooted in hopefulness and freely given. Mercy is most empowering, liberating, and transformative when it is directed at the undeserving. The people who haven't earned it, who haven't even sought it, are the most meaningful recipients of our compassion."
CREATIVE STYLE
During this read, I suddenly arrived at an unexpected conclusion. I thought I was getting a lesson on the death penalty—flawed though it may be. Instead, there was a deep lesson to be learned. This was the creative aspect of the book. The author brought me to this place with sentences like this: "You can't effectively fight abusive power, poverty, inequality, illness, oppression, or injustice and not be broken by it." Suddenly my own brokenness came to the forefront of the conversation. I tried to push it down. This story is not about me, I thought. But the sensation emerged again with this: "We are all broken by something. We have all hurt someone and have been hurt. We all share the condition of brokenness even if our brokenness is not equivalent." This brokenness that connects humanity was the creative link that brought the book to a riveting climax.
LANGUAGE SELECTION
This book is well written. The author is articulate and his choice of words not overly verbose. He tells the story plainly yet with a punch. "Sometimes we're fractured by the choices we make; sometimes we're shattered by things we would never have chosen. But our brokenness is also the source of our common humanity, the basis for our shared search for comfort, meaning, and healing. Our shared vulnerability and imperfection nurtures and sustains our capacity for compassion." This book is a page-turner and yet somehow manages to create considerable contemplation.    
OVERALL IMPACT
This book is not just about mercy but rather about just mercy—grace and forgiveness for the undeserving. I admit I can be stingy about giving second chances to those who deserve to be penalized. But the reason that this book impacted me so much is because of its deep roots in a truth that is biblical. The author explains: "The power of just mercy is that it belongs to the undeserving. It's when mercy is least expected that it's most potent—strong enough to break the cycle of victimization and victimhood, retribution and suffering." Will I be one to give just mercy to those who do not deserve it? This book gives me ample reasons why I should, namely, that I myself am broken enough to need mercy just as much as the next man—perhaps even more.
10 POINT RATING
I give Just Mercy a 10/10.