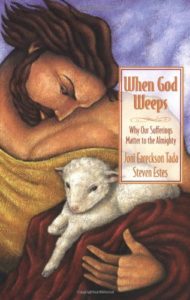 Date read: 06.26.2017. How strongly I recommend it: 9/10.
When God Weeps: Why Our Sufferings Matter to the Almighty by Joni Eareckson Tada on Amazon.
See my Kindle highlights here.
TARGET AUDIENCE
Sure to soften the calloused heart and comfort the grieving soul, this book weaves a deeper understanding of God's compassionate heart between layers of heart-wrenching stories. The author's personal experience alone might have been enough to crush the human will. Instead, new joy surfaced at the onset of her incredible suffering (a broken neck) and her life is now a testimony to millions who want to know if God truly cares about our sufferings. "This book is about God weeping over human heartache," write the authors, "his entering our anguish himself, and the love that drives him to let us suffer. It's about experiencing the friendship of God along difficult paths we didn't even know he walked." The book explores an array of questions that arise in the midst of suffering, quelling rumination of an angry, aloof, or otherwise unapproachable God. This book is both intellectual and emotional and promises to elicit a profound understanding of a God who weeps with us during life's difficult circumstances.
CONTENT QUALITY
The authors repeatedly play the devil's advocate, raising rhetorical questions, examining every facet of suffering and the numerous responses it elicits. This, to me, was a little bit cumbersome, albeit, apt for a book that explores this subject. The three sections are exhaustive, examining the following questions: Who is this God? What is He up to? How can I hang on? Chapters filled with stories of personal suffering and struggle, diving into the deep waters of the theology amidst suffering. I felt, at times, that the authors sought to convince me of things I had already long felt (and believed), and so the recurring truths that they turned over felt extraneous. Not every reader will feel this, I am sure. Thus the "drilling in" and reminders of God's love and sovereignty will serve as encouragement during all kinds of suffering and tragedy.
MESSAGE CLARITY
There is no question as to what the authors seek to reveal about the heart and character of God. The message is a personal journey that Joni has been on for 50 years—confined to a wheelchair, mostly immobile after a tragic accident. Multiple narratives weave throughout theological responses to suffering and a broad perspective of a compassionate God surfaces. Typically, however, theological discourse tends to be weighty and cumbersome. Not so in this book. The authors' tone is both encouraging and lighthearted; their creative writing style clothes theological truth in such a personalized touch so as to cause the reader to smile at their previously misunderstood perspective of a loving God.
CREATIVE STYLE
From sentence structure to word choice, this book is witty and wry, persuasive, perceptive and clever. Some might find it overly loquacious. I did not. I appreciated the threads of creativity as the authors conveyed the oft-overlooked similes and metaphors in the layers between felt human suffering. On the joy amidst African slum suffering, the authors write, "my thoughts were jumbled. So much gladness in the midst of misery. Joy, like a fresh daisy, sprouting up from manure." Poetic and pensive, just the way I appreciate a good book. "As answers elude us, as God's ways stymie us," the authors continue, "the fire of suffering is stoked. We feel the heat of wanting what we don't have and having what we don't want. God appears unmoved. Happiness escapes us. We are discontent and restless." But the narrative moves to a deeper confidence in a joyfully compassionate God, in Whose heavenly home, "Eden's curse will be canceled. Sighs and longings will be historical curiosities. Tears will evaporate. Kleenex will go broke." The two and three star Amazon reviews were submitted by individuals who seemingly do not appreciate a deep literary work—of which category this book is high on the list.
LANGUAGE SELECTION
This book is marked with high vocabulary, yet tinged with superfluous colloquial terms. There are no cliches here and few redundancies. Sentence structure often feels arduous at first glance—lots of commas and semicolons—but the book is, in my opinion, very readable. Some may disagree. "All during these sins, typhoons, illnesses, mishaps, snake bites, crib deaths, famines, and gas-station robberies—God hasn't taken his hand off the wheel for thirty seconds. His plans are being accomplished despite, yes, even through, these tragedies." Depictions of God are both terrifyingly foreign and unexpected. "God is not a casual or capricious Sculptor," The authors state. "He promises to be precise with the chisel." Ouch! That hurt a little, but I appreciate such truthful descriptions of a God I claim to know and love, yet comprehend so little about.
OVERALL IMPACT
"Twenty minutes of heaven will make up for everything." Statements like this are highly impactful. They carry me up arduous cliffsides, propel me to new mental and emotional plateaus. This book gave me new vision, opened my eyes to secret caverns in the heart of God. If only I could live in a constant state of the realization of God's goodness amidst suffering—what joys might be birthed within me! This book will encourage the travel-weary, strengthen the spiritual sinews, repair the brokenhearted. The author's final statement is apt: "You have something eternally precious in common with Christ—suffering! But to your amazement, the fellowship of sharing in his sufferings has faded like a half-forgotten dream. Now it is a fellowship of sharing in his joy and pleasure. Pleasure made more wonderful by suffering."
10 POINT RATING
I give When God Weeps a 9/10.